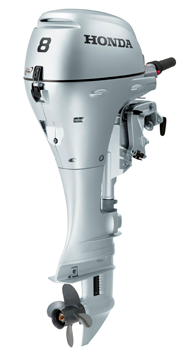 Honda's BF8 has a deserved reputation built on superior reliability and economy. Combining responsive, reliable and economical power in a lightweight package, this engine delivers complete satisfaction.
Perfect for use on inflatable boats and small aluminium dinghies, the BF8 is easily transportable thanks to its convenient foldaway carry handle.
Honda's world-renowned quality combines proven reliability and superior fuel efficiency, with no oil mixing, resulting in a healthier experience for you and the environment.
The BF8 features a patented 'double sealed' multi-layered paint process. Sacrificial anodes and stainless steel technology, along with waterproof connectors, all enhance corrosion protection.
A Fresh Water Flushpoint flushes debris and saltwater out of the engine, extending the life of your outboard. As well as this, a crankshaft-driven, automotive-style trochoid oil pump ensures the long-term durability of critical engine components.
These features are designed to allow you and your BF8 will to spend more time on the water, enjoying all that nature has to offer.